Zoe's (and Brad's) birthday party on Friday night was a big success, I think. I had a good time anyway. We had a "carnival" theme and set up games that all seemed to be enjoyed except the bean bag toss, which was just kind of boring. We had body boppers which were the most popular until they popped, bobbing for apples, balloon darts, and sack races as well. Food seemed to be a hit. At least it all pretty much got eaten. Didn't have much in the leftover department except the veggie tray which looked eerily untouched. Heh. Zoe decorated all the cupcakes and they truly looked "carnivally". More like candy explosions. Here is a pic of the cupcakes and Zoe and Brad. Zoe's all wet from bobbing for apples...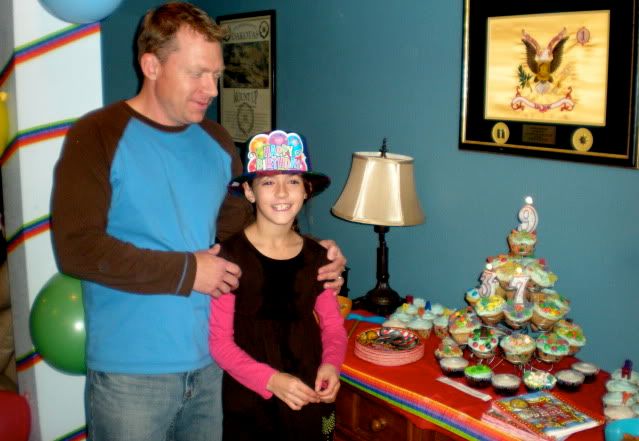 Today, I am doing laundry and making lists and cleaning to get ready to pack tomorrow for our TRIP TO FLORIDA TO SEE TINA AND CO!!! I can't wait. I mean, I really really really can't wait. I can't wait to just totally veg in her house and talk and laugh and cry and just BE MYSELF for awhile. I can't wait to get to know her kids again after a year. I can't wait to do Elise's hair and listen to Aaron play the piano and watch Maria and Ananda reconnect and listen to Isaac chatter and read to Jake...I can't. freaking. wait.
Unfortunately I have to pack and plan first. And ride on an airplane. And get through airport security without having nudie pics taken of myself or getting strip searched. Please tell me they won't put try to put kids through those scary scan machines? If they do, I'm going to ask them where the lead aprons for their unmentionable parts are. Grrr....